Book Review: "On the Run" by Lorena McCourtney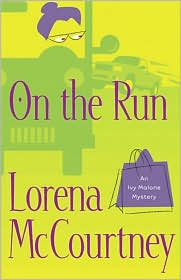 Don't forget to enter the book giveaway to win a copy of Arms of Deliverance.
Click here to enter. I'll pick a name and announce the winner on Wednesday.
Emus=stupid animals
Ivy Malone is back again, this time on the run in a motor home as she tries to escape the Braxtons yet again. Thinking that she can just enjoy being on the road and enjoying the sites, Ivy sets off on sets off across the country. Of course since it's Ivy, she can't escape any adventure, which comes in the form of a runaway abused wife and a new job opportunity where her would be employees end up dead before Ivy can even apply for the job. Since Ivy can't pass up a good investigation, she and her new friend Abilene search for clues as to what really happen when the son of the dead ask her to be the caretaker. Mix in some emus and enough toilet paper to last you a lifetime, and you've just encountered another normal day in the life of Ivy Malone.
I cannot get enough of Ivy Malone and her adventures. I really love how she just happens to stumble on them, she doesn't go out to look for trouble and pretend to be a detective. She's a very levelheaded person. I always love stories that involve road trips, it's just something about not knowing what's going to happen next in the story. I'm glad Ivy was able to find a good relationship with Abilene who I found to be a fascinating character and a good sidekick for Ivy. Those two women are awfully brave to enter a house with two dead bodies staring right at you. And then they stayed AT the house afterwards! I would have run far far away, just being near the house would have been too creepy for me.

I also will say I was surprised at the ending, totally didn't see it coming. Abilene's husband makes me want to scream and I hope justice happens in the next book for him. I found it very amusing during the paintball scene, imagine your grandma shooting at you with paintballs! I also love that she has a toe ring! And the emus and that huge stockpile of supplies! I could go on and on about what a great book this is. Once again I highly recommend this book, this book is like Pringles, once you start reading you can't stop.
On the Run
by
Lorena McCourtney
is published by
Revell
(2006)