Book Review: "Stranded" by Lorena McCourtney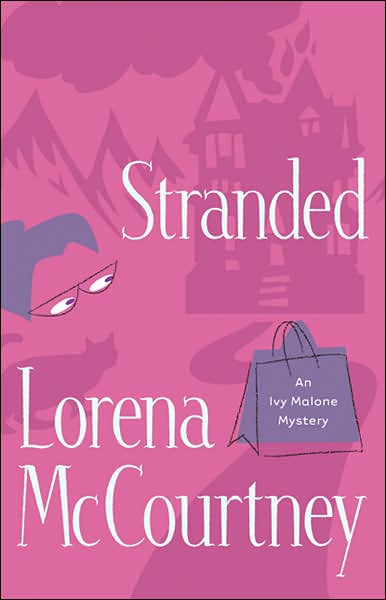 Don't forget to enter the book giveaway to win a copy of Arms of Deliverance.
Click here to enter. I'll pick a name and announce the winner on Wednesday.


Who knew grandmas wore thongs?
Thanks to her broken down RV Ivy Malone, that spunky little old lady, has found herself stuck in the town of Hello. Her and her sidekick Abilene are worried that they might be stranded in a boring little place but since it's Ivy, of course they soon find themselves in the middle of an unsolved murder. The townspeople believe that the murdered man's niece committed the crime, but Ivy isn't so sure. Thanks to the guys' multiple marriages, everyone appears to be suspect. Soon Ivy and Abilene don't have time to worry about the Braxtons or Boone as they are fully immersed into the town life of Hello. Between helping out (aka growing romance) the town vet for Abilene and sorting through the personal library and assisting the props for the yearly revue for Ivy, the two also fill their days looking for the real murderer. Using her investigative powers and her never failing invisibility ability, Ivy is able to once again draw the reader into another page turning, side aching adventure.
Once again Ivy has another hilarious and suspenseful adventure. I laughed and I laughed while reading this book. Who knew grandmas wore thongs?!! There are so many times in this book where you'll be reading a paragraph and start to giggle from either the actions going on or Ivy's reaction to the situation. Abilene didn't have much of a presence as she had in the last book, but I was glad that her situation was happily resolved. Each book has had their own unique set of characters, but I must say this one has had my favorite. From Nutty Norman and his brain wave dance to the potbellied pig (Ivy's thoughts about pork chops were a hoot) to group of LOLs doing a chorus line, the townsfolk are lively and exciting albeit a bit on the judgmental side. And yet again, I wasn't aware of the real culprit until the very last chapter of the book. This is the type of book you just want to read while curled up in a blanket on a cold winter's day with a hot chocolate by your side. I really hope there will be another Ivy Malone book. What will happen with her and Mac??? This is one of the best book series I have ever read. Mystery, romance, humor-you name it, Ivy Malone's got it.
Stranded
by
Lorena McCourtney
is published by
Revell
(2006)