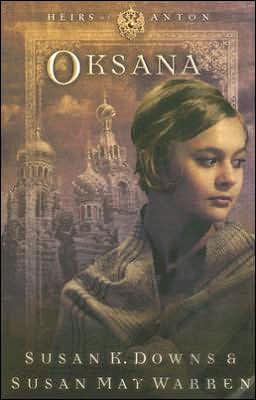 Russian Historical Fiction at Its Best
It is the time of the Russian revolution where anyone connected with the royal family is no longer safe. Anton has been trusted with command by the tsar to take two servant girls from the royal house into safety. He soon falls in love with one of the girls, Oksana who seems to be hiding a secret from him. The two are constantly at odds but Anton has vowed to keep her safe. When he finds out her secret, will he still keep his promise to her or will he betray her trust?
I was afraid when reading this book I would be lost because I hadn't read the 2nd and 3rd book in the series. I had read the first book, Ekaterina, and had enjoyed it very much. However this book reads as a novel by itself although reading the other books will probably help to connect the complete storyline. I'm a huge fan of Russian history especially when dealing with the Russian royal family. I have always found the rise and fall of the last Tsar of Russia and his family fascinating. This story weaves historical fact with fiction beautifully. It's a really good story too, with lots of suspense and romance. What I also enjoyed about this story is that while most stories during this time period focus on Anastasia, this one was mainly about Olga. It was nice to read about a different perspective. It was obvious lots of research went into writing this book. I could almost imagine I was part of the story myself, trying to get into disguise and running for my life. Even though I haven't read the two books in between I can see how the first book and the last book tie into together with lots of clues finally being revealed. Excellent historical fiction and highly recommended.
Oksana by Susan K. Downs and Susan May Warren is published by Barbour (2005)