Book Review: "Try Fear" by James Scott Bell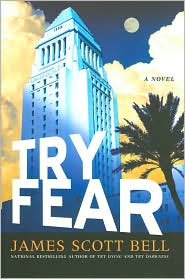 For Ty Buchanan, defending a suspected drunk driver named Carl Richess seems routine enough. But when his client ends up dead, an apparent suicide, there's nothing routine about it. Because the cops suspect it's murder, and arrest Eric Richess, Carl's brother, for the crime. Now Ty, at the desperate urging of Eric's mother, agrees to defend him. But it won't be easy. Because there's DNA on the gun that matches Eric's, and a history of conflict between the brothers.
Then Ty, assisted by Sister Mary Veritas, begins to uncover tentacles of corruption that reach into the citadels of city power. But he's being watched. Because somewhere in the dark labyrinth of LA is someone who will do anything to keep from being found out, someone who believes that when warnings don't work, try fear.
There are many things I've liked about this series. The quirky characters. The gritty plot lines. The unlikely relationships. The no nonsense attitude. These books have been page turners for me, I've found myself unable to stop reading once I've started. In the final book of the series, Ty once again finds himself with an unusual case that most lawyers would totally avoid. What should have been a routine DUI case ends up turning into murder drama. Ty is also have to deal with a cyber stalker who's targeted Sister Mary for no apparent reason.
What's best about this book is the dialogue. I really like the one liners that Ty makes, they are more witty and funny than eye rolling. Even when they do fall in the "oh gosh I can't believe he said that" category, Sister Mary and Father Bob are there to bring Ty back to earth. In this book also we get to see another softer side to Ty, one that is finally starting to learn to let go of his past.
This was an excellent ending to the series. Everything I wanted to happen involving certain people happened and not in a fake, mushy way either. I was dreading a drawn out storyline or some overly dramatic romantic plot but luckily neither happened. I will say that if you have NOT read the other two books in the series, I highly recommend reading them before this book. While the main story lines are standalone, there are many things that tie the books together and there are relationships and character developments that will make more sense if you read the books in order.
Again, my one qualm with the book is the short chapters. I just feel like they break up the story too much and makes the plot feel very choppy. Other than this, I really enjoyed reading this book. I have been pleased with the whole series and have always been a fan of Bell's books. As I've said with the other two books in the series, these are great reads to give to reluctant male readers as it's filled with lots of action and suspense. Definitely one of my favorite law reads of the year.
Try Fear
by
James Scott Bell
is published by
Center Street
(2009)


This ARC was provided by the publisher