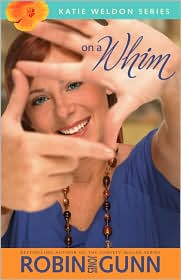 It's like reading about my own life
Katie Wheldon is now in her senior year of college and she thinks she has everything planned out. She especially thinks she's ready to take her relationship with Rick to become more serious. Rick is ready too but his work schedule works havoc into making their intentions happen. So Katie steps back and lets things go more slowly. However after a midnight trip into the desert to do some star watching with Rick's roommate and events like Baby Hummer dying, Katie becomes confused about how her future should be planned out.
Reading about Katie Weldon is like reading the story about one of your close friends. I grew up reading the Christy Miller and Sierra Jensen series so reading Katie's books is a must. I definitely miss being an undergrad student living in the dorms when I read this book. Dorm life is something everyone should experience. The adventures Katie has in the dorms just bring back a lot of memories. I loved the whole flower mystery. I was kind of worried about the way Katie and Eli's relationship was going. I don't want anything to compromise her relationship with Rick. The trip out to the desert, while breathtaking, did have grounds for concern from Christy and others. While totally innocent, I could see why eyebrows might have been raised especially at a Christian college. I do love reading about her and Rick's relationship. It's great to see Rick evolve from the high school jock who tried to get Christy to this really nice grown up guy who cares very much about Katie. I just do not understand Katie's mother. It seems that no matter what Katie does, she cannot please her. I would go absolutely berserk if she was my mom, but Katie handles her very well. She would be an interesting mother in law for whoever marries Katie. The whole story is just something almost every 20-something goes through. I, myself, could totally relate with Katie throughout her choice, decisions and feelings. I get excited every time I read a Robin Jones Gunn book because I know it will be a good read. I really love the characters she's created and I hope she'll never stop writing about them. I cannot until book 3 comes out!
On a Whim by Robin Jones Gunn is published by Zondervan (2008)