Book Review: "Infamous" by Cecily Von Ziegesar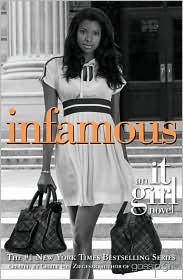 *Although the books I review on my blog are almost always Christian fiction, there will be a few spotlighted regular fiction titles I will review from time to time.*

When Jenny Humphrey confessed to a crime she didn't commit- starting the rampant fire that burned down Miller Farm-she thought her life at elite Waverly Academy was over. But her last minute escape from expulsion made Jenny the most talked-about girl in school. What nobody knows is who saved her. Now at the annual Halloween masquerade ball, she has a plan to unveil her secret admirer.
Callie Vernon knows who her Prince Charming is: Easy Walsh. But when he discovered she and

Tinsley

Carmichael tried to get Jenny kicked out, Easy dumped her on the spot. Now Callie is dressing up as Cinderella in hopes of winning back his heart. Can she convince Easy she's the one before the clock strikes midnight? Or will her glass slipper-and her heart-be permanently broken?
Everyone wants a fairy-tale ending. But there can only be one It Girl.


These books are my total guilty reading pleasure. I know I'm older than the characters or the intended audience but there's just something about the stories that I just can't quit reading. I know the characters all act in ways they shouldn't and are doing illegal things and spend way more money than anyone should. However the writing is fast paced and you really get into the story. If you haven't read any of the books in this series before, you should probably start from the beginning as many past events get brought up a lot.
It was a nice change of pace to FINALLY see

Tinsley

and Jenny become friends. I was really getting tired of

Tinsley

acting stuck up and mean to Jenny for stupid little reasons. I was kind of sad that the four girls didn't get to hang out together but all of the stories was good. I really like Brett's adventures back home. That would have been a hoot to see. It's a nice change of pace to see her out of her element and defending her family even though she's been hating them all this time. I actually kind of hope

Tinsley

and Julian (I love that name) get back together. He seemed like the one person who makes her act human. I was rather disappointed by the Easy/Callie story. There could have been so much more to that and with all their history, it just rises up so dramatically and then falls flat.
My only real gripe is since Jenny returns back to NYC it would have been nice to see some cameos from the original Gossip Girl gang. I know they're in college but wouldn't they be home for break? It would have been fun to see Serena, Vanessa, Nate or Chuck just waltz by in the story and to have

Tinsley

meet with them and see some interaction. I would have loved to see the most popular girl at Waverly meet her match with the most popular girl at Constance

Billard

. But alas I don't think

that'll

ever happen. Also who is the girl on the cover supposed to be? I have not read anyone in the books that matches that description.

There's actually no sex in this book, which was a nice change of pace. There's the usual cursing but I think it was toned down. Drinking is present so if you're not a fan of that, just beware. It was a really quick read and I enjoyed it. I'm looking forward to seeing what's going to happen next with the foursome. Hopefully everyone will stay friends for at least one more book....

Infamous by Cecily Von Ziegesar is published by Poppy (2008)