Book Review: "A Touch of Grace" by Lauraine Snelling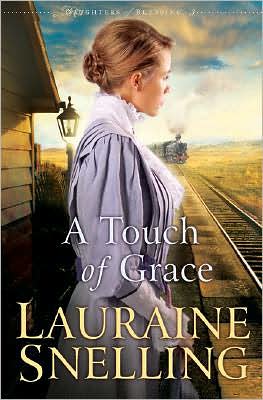 Grace, how sweet the sound
In the third book in the Daughters of Blessings series we are told the story of Grace Knutson, the daughter of Lars and Kaaren. Because she is deaf, she has always had to rely on what everyone else, therefore earning the nickname "Grace Always". But she wants to break out of that mold and her opportunity comes when Jonathan Gould arrives from the city to stay with the Bjorklands. His city ways and her country style seem to blend well together to the point where Grace leaves home to go to New York. Now she has to rely on herself to break barriers and prove that she can survive on her own.

Grace has always been one of my favorite characters since her first appearance in the original series. I think I liked her best because she had a unique challenge to overcome. At the time being deaf was like a death sentence but she was able to overcome it and live like a normal person. I was really amazed at how well she was able to adapt to living on the farm and that she could speak both English and Norwegian without ever hearing it.
It must have been really difficult for those who were handicapped back in the day. People were not as informed of disabilities as they are now. It's sad about the way Grace was treated especially by Jonathan's mother and that fact that she thought Grace was not suitable because of the way she spoke. I'm glad though Grace was able to find solace in the school and that was felt accepted there.
I was very impressed with the way Grace handled herself in a big city.
I liked seeing the parallels between the city boy going to the country and the country girl going to the city. The way the two handled their situations was different and unique. Grace's unrequited love for Toby is universal; almost every woman has been in her situation. The reader will ache with her as she mends her broken heart and will also cheer as Jonathan tries to help her forget him. I think it was wonderful to see Grace finally break out of her shell and display her true identity. A highly enjoyable read which will keep you wanting more. Fans of the members of the Bjorkland clan will enjoy this latest edition to the Red River saga.


Interestingly, after I had finished reading I discovered I had received a fragrance gift set for Christmas. The name of the perfume was called Pure Grace. With the fresh, sweet scent I think Grace would have highly approved of the fragrance named after Jonathan's affectionate name for her.
A Touch of Grace by
Lauraine Snelling
is published by
Bethany House
(2008)