Book Review: "For Better or Worse" by Diann Hunt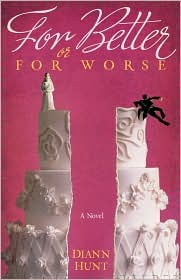 Opposites Do Attract
Wendy's a wedding coordinator who revels in seeing couples live out happily ever after. She's also a widow. Mario is a divorce attorney who's bills get paid when he successfully helps a couple break up for good. He's also a divorce. The two couldn't be more different and wouldn't have crossed paths if Mario didn't happen to move in right next to Wendy's business. The sparks start to fly almost immediately and the chemistry between the two begins to heat up. Wendy tries to resist Mario's charms but finds out that she just can't. And then her son breaks the news that he's engaged to Mario's daughter.....
This story reminded me of all the great 50s movies where the leads are total opposites yet still somehow find themselves being attracted to each other. I mean how completely different can two people be by one advocating marriage and the other trying to profit from breaking it up? Wendy wants nothing to do with Mario yet he keeps popping up everywhere. Then she starts seeing all the bad things about Logan. It's funny how when you want to stop liking someone, you can focus on everything negative about them and then you find them repulsive. The writing is sprinkled with humor throughout which will keep the reader giggling. Scenes such as Wendy's foot phobia, Roseanne's fear of birds and the whole geese sequence will have you cracking up. There are serious topics discussed such as parent/child relations regardless of what age the child is. Also the sanctity of marriage and the effects of exactly how the spouse left the other is brought to the light in the book.
There were times however when I felt that Wendy acted like a pushover. I felt this especially during confrontations with her dad, Brooke, Mario and Logan. She didn't seem to want to argue back or push her case more. It made her character seem really weak because she wouldn't put up a fight or speak up about what she really wanted to say. This was especially evident when Sophia and Colin announce their engagement and Wendy does not allow herself to have a heart to heart talk with Colin. I felt that she really should have sat down and talked with him instead of just saying no and then just trying to pacify him. This brings to mention something that did slightly confused me throughout the book. Wendy and Mario's kids are dating. Wendy and Mario start dating. If Wendy and Mario get married, their kids will become step siblings. If that happens, it looks like step siblings will be marry each other. What was weird is that this is never brought up or mentioned at all. It's nothing major, just something that kept running through my head the whole time I was reading the book.
This is a fun story, perfect for those who are looking for a light hearted funny story with a touch of romance. A perfect Valentine's Day read!
For Better or For Worse by Diann Hunt is published by Thomas Nelson (2008)