Book Review: "You Had Me at Good-bye" by Tracey Bateman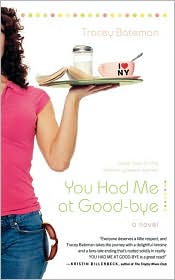 First chick lit book of '08 is a winner!


Dancy is an editor for a fiction publisher. Well she is until she makes a snafu with the company's top author and is fired from her job. To make do while she finds a new job, she helps out a coffee house and writes in her novel that's semi autobiographical. She's just found out she has a new younger half brother, her parents are getting back together, her older brother is getting married, and her cousin is trying to make the moves on the one guy with who Dancy has a love/hate relationship. Does it makes things worse if the guy is cute, British and the one that fired Dancy?
I think I enjoyed this book even more than the first one in the series. This book included pretty much everything I like: books, food, and British guys. I really liked Dancy's character. She had a job I loved and also had a heart for helping others. I really enjoyed learning about the publishing world through this book. It was interesting learning to see how fiction books are acquired and what is needed to make it big in the nonfiction side. Also I want to read Dancy's book! The excerpts in the beginning of the chapters were fun to read and made want to get the whole book. Jack and Dancy's chemistry was excellent in this book. Who can resist cute British guys? I mean, that accent alone would just make my heart flutter every time I hear it.

Oh and I loved reading about Laini's culinary creations. I was dying to try out her cinnamon rolls or her ham and cheese roll ups. If I was her roommate I think I would probably have to restrain myself or else I'd be moving up a dress size. I think it was great to read about New York socialites and the absurd standards they push upon themselves. I wanted to yell at Dancy for complaining about how fat she was at a size 4. Of course she finally does accept that being stick thin is not good for her but it's just sad to see how society keeps pushing the thin is in mindset. I loved Dancy's brother because he was such a rebel compared to the rest of the put together family. It was sad though that the parent figures in this book weren't very good role models for their children. As the first chick lit read of the year, I had a rollicking good time reading it. Laini's book needs to come out now because I cannot wait to read it!


You Had Me at Good-bye by Tracey Bateman is published by
Faithwords
(2008)