Book Review: The Legend of the Firefish by George Bryan Polivka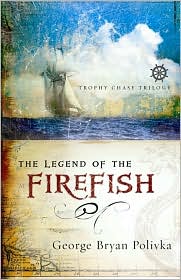 The perfect book for all those Narnia/Pirates fans
Packer wants to help out his village whose economy is declining. He stows away on the pirate ship The Trophy Chase in hopes of bringing them to hunt the Firefish. What he doesn't expect is nearly drowning, being brought back to life by a notorious swords woman or having his faith seriously tested. Meanwhile, the girl he loves and left back at home, refuses to stay behind. Panna leaves her home to find Packer and gets caught up in adventures of her own. Sword fighting, carnivorous fish and angry pirates all await you inside this whale of a tale story.
Are you a Pirates of the Caribbean fan? Do you dream of swashbuckling on the high seas, fighting sea monsters and seek the thrill of adventure? Well then this is the perfect book for you. Wow this book was just action packed from the get go. I loved Packer's character right from the beginning. He's an excellent swordsman who could probably kill just about anyone he meets but his strong faith in God keeps him from turning to the dark side. I loved how he was the character that just couldn't die, even to the point where the other characters complain about how he keeps coming back to them. Panna is a great character as well because she refuses to stay behind and wait for her man. She goes out and tries to find Packer and gets into adventures of her own. When she meets Talon, it is interesting because the two are polar opposites. Talon is actually quite a complex character. We never get to learn her full story but from how she is described she is one of those characters you can't get enough of. I liked that how even though she is female, she is an excellent swords woman and feared by many.

The parts where the crew is battling the firefish brought to mind scenes from The Voyage of the Dawn Treader where the ship battles the sea serpent. Reading from the fish's point of view was a unique concept. Although it sort of makes me queasy to think that the fish like eating each other (what's to stop it from eating itself?) I'm not a regular fantasy reader but I enjoyed the mention of God. He's treated the same as in this world, so it's possible to see how this story could have really happen long ago on the high seas. This book will be a surprise hit for many readers. I really think guys will like this book, there's plenty of action and sword fighting for them. I thought this was an excellent book, I did not want it to end. Thank goodness there are two more books in the series. HIGHLY recommended. Read it or be prepared to walk the plank!


The Legend of the Firefish by
George Bryan Polivka
is published by
Harvest House
(2007)