Book Review: "Moon White" by Melody Carlson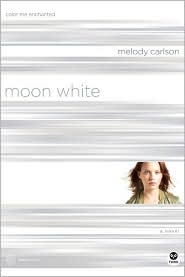 Spiritual Confusion
Heather is spiritually curious. The death of her mom has caused her to be unaware of where to turn to. Her stepmother influences to open her mind and become more aware of her aura. This leads to Heather becoming interested in Wicca. After going to a bookstore which specializes in the Occult, Heather is now studying spells, buying idols and is thinking about becoming a witch. Attending a seminar about Wicca only encourages her more to learn about this new way of thinking. But while her Christian friends are urging her to turn away from this, Heather is only more drawn to a way of thinking that can help her get over the pain and guilt of losing her mother.
I like to learn. And I like it when I read a book and learn new things. This book was very fascinating to read because for once I was clueless about the subject matter. Other than my Harry Potter geekness, I have no knowledge of Wicca, the Occult or magic in general. So while reading this book I managed to learn quite a bit of info that I normally wouldn't look up myself. Melody Carlson writes about subjects that teens regularly face every day. This book deals with a subject matter that many Christians will not deal with because they are uncomfortable with it. Most of the time they don't even know with what they are dealing with. This book helped me to learn so that if I ever meet up with someone who is going through what Heather did, I'll know what to do. It's a very intense book. The scene where Heather has the dream that stays into reality is super scary. It gave me chills reading it and made me want to turn the lights on in my room.

What I did really appreciate is that the story is told from the POV of someone who isn't a Christan and therefore is not judgmental. Heather does have Christian friends who pray for her. While there is a mindset that condemns everything she does it is shown how this is not the best way for Christians to act. I think this story will appeal highly to teens. This book shows them the Truth but it also shows what will happen if you turn to other ways to fulfill your spiritual needs. Because of the intense subject matter in this book, I would recommend it for older teens on up. Actually I think adults should read this book too. Melody Carlson proves once again why when you think YA fiction, you think her name.
Moon White by
Melody Carlson
is published by
NavPress
(2007)