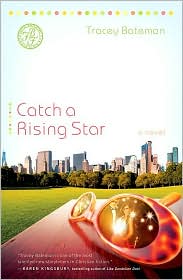 Some Kind of Superstar


Tabby Brockman is a rabbit working in a bookstore. Ok well she's a dressed up rabbit because her former job as a soap opera actress came to an end with her character's death. This can be blamed on jealousy by the head writer's husband being attracted to Tabby. She's getting by in life with her two best friends Dancy and Laini when she gets the call that she's been invited to rejoin the soap opera again. Now a Christian, Tabby has to make sure her character doesn't tread into dangerous waters, fend off unwanted suitors and try to stay on her toes with the hunky dad of her two soap opera kids. All in a day's work for an actress!


Reading this book introduced a first for me. Tabby is a soap opera actress. I have never read in a Christian fiction book about a Christian acting in a soap opera AND still being a Christian. Normally the character will be a non Christian who's an actor, then converts and drops out of acting all together. So this was a welcome relief to see how one can be a Christian and act at the same time. This was a really fun book to read. I enjoyed learning about the soap opera world especially since I was a closet All My Children fan back in the day. It was interesting learning about what goes on in the makings of a show and reading about the backstage lives of the actors. Tabby is a great character who made me laugh a lot with her antics. I do love how there are characters you can love to hate in this book and that Tabby equally shares the reader's dislike in them. It makes the characters more relatable when they are acting the way you would act in that sort of situation. And I loved her relationship with Dave. Loved reading all the drama that happened between the two! It's just really cool to read about people who are around my age doing things they love, having great shoes and clothes but still be really adamant about their faith. I loved all the characters in this book and I'm looking forward to reading about Dancy and Laini's stories as well. If you are a soap opera fan or a chick lit gal, pick up this book!


Catch a Falling Star by Tracey Bateman is published by
Faithwords
(2007)