DNF: The Fashion File by Janie Bryant with Monica Corcoran Harel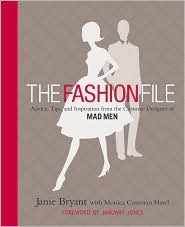 Summary from BN.com: As the costume designer for television's Mad Men, Emmy Award-winner Janie Bryant must match couture with the disparate body types and personalities of that show's distinctive female and male characters. In The Fashion File, she not only offers elegant peeks behind those dressing room doors; she describes how you can adapt your clothing choices to match your personal look and preferred style. In addition to its memorable Mad Men stories, this illustrated hardcover dispenses timely wardrobe and accessory details, tips, and advice.
Ok, this is my first DNF on the blog so if it sounds choppy it's because this is the first time I've ever done this.
Sometimes no matter how interesting you think a subject matter can be, sometimes the book just isn't for you. I was really looking forward to reading this but then after I started I wondered why. First off, I don't watch Mad Men. I've tried to get into the show but I just can't even though I adore Jon Hamm. Second, I'm not really into fashion. While I do make sure that I wear what compliments me, I wear things that are comfortable not things that are high in fashion. And that's pretty much what this whole book is about.
I will admit there is a lot of information about fashion in this book that is probably very interesting. The book has a lot of illustrations and tidbits for those that are in that sort of thing.
My main problem is that I just don't wear the sort of stuff that's featured in the book. I don't have the body shape of any of the examples given. I don't wear dresses unless I absolutely have to. I just cannot see myself wearing this sort of stuff at any given time except when I feel like I need to dress up for an occasion. It's all very interesting stuff but I feel like this book would probably read better by using it as a reference guide and not straight through in one sitting. While this book may not have been for me, those who enjoy fashion (as well as the show) will really enjoy this book. I know that my sister who is a fan of both will enjoy it and I look forward to sharing it with her.
Here are some other reviews of this book

Rundpinne

Minding Spot
The Fashion File by
Janie Bryant
with Monica Corcoran Harel is published by
Grand Central Life & Style
(2010)
This review copy was provided by the publisher