Book Review: "A Suitor for Jenny" by Margaret Brownley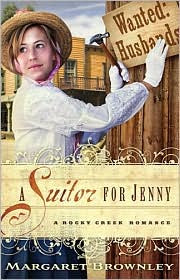 Summary from BN.com: When looking for a husband, it's best to go where the odds are in your favor.
And that would be Rocky Creek, Texas, 1880. But Jenny Higgins's plan to find husbands for her two sisters hits a snag when enthusiastic applicants fail to meet her stringent requirements.
Rejecting her sisters' choices for mates and riding herd on her growing feelings for Marshal Rhett Armstrong, she refuses to give up.
Jenny thinks choosing a husband is not a job for the heart. It'll take one strong and handsome marshal to convince her otherwise.
Women finding husbands. It's a never ending saga that has lasted throughout history and will go on forever. Jenny is the oldest sister who has been left in charge of her two younger sisters. They have arrived in Rocky Creek to set out to look for husbands. Due to circumstances in her past, Jenny is determined to find respectable, well to do spouses that can provided security for her younger sisters. She develops an unconventional set of tests and procedures that the eligible men must pass before they can be even considered. However, the men of the town aren't happy with her set up. It turns out neither are her own sisters who would much rather find their own mates the old fashioned way.
There's a lot of miscommunication in this book with the characters but it adds to the charm of the book. I loved how devoted Jenny is to her sisters even if she goes about it the wrong way. I also loved her growing relationship with Rhett, even if she doesn't realize that there is one. He's intrigued with her from the first day they met but he's careful to let her realize it before he makes any moves. The characters are fun to read about and I enjoyed seeing all the colorful townsfolk. I did feel sorry that back then a woman had to rely completely on her husband for everything.
While I enjoyed the story very much, there were certain parts of the book that left me a bit irritated. I was not a fan of how Mary Lou's eventual intended kept treating her throughout the story. I do not like men who just assume they know what a woman needs or wants. He just kept acting very arrogant and tells Mary Lou how it's all going to be and that is that. I seriously wanted to slap the guy because I wouldn't want to be treated as if I didn't have a mind of my own. The thing that bothered me the most is that this is all seen as romantic for the reader. My other qualm was just Jenny's attitude in general. I understand completely why she is acting this way and I understand her concern for her sisters. I just felt that she was doing everything completely the wrong way. I know the whole story is based on this and while I liked her character very much, I just kept shaking my head at the antics she kept doing in order to secure spouses for her siblings.

Overall though, this was a fun and enjoyable historical romance. This is the second book in the Rocky Creek Romance series but if you haven't read the first book you won't be lost when starting this one. Brownley's style of writing is very engaging and it draws the readers into the Rocky Creek world very easily. The main thing you will get when you finish reading is thinking about what does it mean to have a spouse and the reasons as to why you want one. Love should be the most important qualification because if it isn't there, no matter how financially secure you are, the marriage cannot survive properly without love. I look forward to reading the next book in the series. Quick note: I'm not a fan of the cover at all. It looks very very awkward.

A Suitor for Jenny by
Margaret Brownley
is published by
Thomas Nelson
(2010)
This review copy was provided by the publisher