Book Review: "Paradise Valley" by Dale Cramer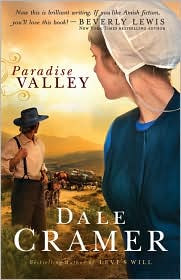 Summary from BN.com: An Amish settlement in Ohio has run afoul of a law requiring their children to attend public school. Caleb Bender and his neighbors are arrested for neglect, with the state ordering the children be placed in an institution. Among them are Caleb's teenage daughter, Rachel, and the boy she has her eye on, Jake Weaver. Romance blooms between the two when Rachel helps Jake escape the children's home.
Searching for a place to relocate his family where no such laws apply, Caleb learns there's inexpensive land for sale in Mexico, a place called Paradise Valley. Despite rumors of instability in the wake of the Mexican revolution, the Amish community decides this is their answer. And since it was Caleb's idea, he and his family will be the pioneers. They will send for the others once he's established a foothold and assessed the situation.
Caleb's daughters are thrown into turmoil. Rachel doesn't want to leave Jake. Her sister, Emma, who has been courting Levi Mullet, fears her dreams of marriage will be dashed. Miriam has never had a beau and is acutely aware there will be no prospects in Mexico.
Once there, they meet Domingo, a young man and guide who takes a liking to Miriam, something her father would never approve. While Paradise Valley is everything they'd hoped it would be, it isn't long before the bandits start giving them trouble, threatening to upset the fledgling Amish settlement, even putting their lives in danger. Thankfully no one has been harmed so far, anyway.
Amish fiction set in Mexico? What will they think of next? That's exactly what the premise of this story is as a sect of Amish in the 1920s left their home in Ohio to start their own community in Paradise Valley, Mexico.
I don't know if I necessarily agreed with the Amish community's decision to keep their children home from school. I could understand why they felt that way but I didn't necessarily like their disregard for government. It's stated throughout the book that they felt that they didn't have to follow the law or the government because of their religion and how they were not of this world. The irony though is that when they got to Mexico, they wanted rules and laws to be followed so that thieves would not steal their belongings! Maybe it was just me but it seemed that they only wanted the government's input when it suited them.
The thing that interested me was how the Amish community viewed Mexicans. Even though they pride themselves on being non judgmental, they viewed many of the Mexicans as savages. The Benders seemed extremely surprised to learn that Domingo could learn languages very well and kept referring to him as an ignorant savage. I can understand their surprise and interest at different cultures but at times it felt as if they were acted like their were superior to the natives of the country.
This is the first book in the Daughters of Caleb Bender series and it shows. By that I mean a lot of this book is just preparing the story for future books. There's not really much action or drama in this story. There is the whole reason for the move and the actual move itself but once the Benders and their party get down to Mexico they spend most of their time just getting settled. There's nothing wrong with this but I just feel that this first book was just setting up the story for the future. Still, I enjoyed it. I've never read Cramer's books in the past but I do like his style of writing even if I don't agree with everything in the book. I'll go back and read his backlist (which I heard has some really good books) and look forward to reading more of this series in the future.
Paradise Valley by Dale Cramer is published by
Bethany House
(2011)
This review copy was provided for a blog tour with the Christian Fiction Blog Alliance