Book Review: "Prisoners in the Palace" by Michaela MacColl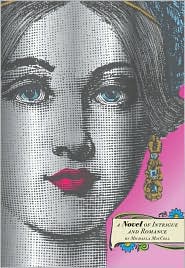 Summary from BN.com: London, 1838. Sixteen-year-old Liza's dreams of her society debut are dashed when her parents are killed in an accident. Penniless, she accepts the position of lady's maid to young Princess Victoria and steps unwittingly into the gossipy intrigue of the servant's world below-stairs as well as the trickery above. Is it possible that her changing circumstances may offer Liza the chance to determine her own fate, find true love, and secure the throne for her future queen?
As faithful readers already know, I am a historian. I am also a huge Anglophile. Alas I studied American history and not British history in college. Therefore in my pleasure reading time, I love to focus on anything British in my books. And one of my favorite British topics is the British Royals. From medieval times to the current royals, I adore reading about the monarchy. Queen Victoria is one of my favorite historical royals to read about because her story is so fascinating and also because so many European royalties all have ties linked directly to her.
The main character in this book is Liza, a young woman who finds herself being forced to lower her position and status to save herself from being destitute. She becomes the lady's maid to the young Princess Victoria who is being kept pretty much as a prisoner in the palace that she lives. Controlled by her mother and Sir John Conroy under the Kensington system. Liza becomes the eyes and ears for the princess and discovers secrets about the palace that outsiders never knew existed. It's a fascinating look in the lives of British royals during the time period and it's lush and rich with historical detail.
There were times in the book when I did get a bit annoyed with Liza. I understand that she grew up in a position higher than what she was now and I can understand if she was unaware of most of the customs and traditions of her new station. However there were times where I thought she acted too modern for the time period. It wouldn't have mattered if she had been rich or a royal, there were just certain things that young women of that would not have done. I'm not sure if the author was trying to make the modern reader be able to relate to Liza more but it just really took me out of the time period every time I read about her speaking out of turn or doing things out of character.
I read this book after watching the movie The Young Victoria for the third time (it's a GREAT movie by the way). There is no mention of the movie anywhere in the author's letter in the back of the book, so I'm not sure if the author knew about the movie or just chose not to mention it. Either way, I was pleased to see similarities between the book and movie without the two copying each other completely. It was easier for me to picture the characters in the book thanks to the movie so they came more to life for me. The only jarring change was that the movie romanticizes Victoria and Albert's relationship right from the beginning where as in the book they don't like each other and Albert is rather a prick. While this may have been true, it was still heartbreaking to not see them falling in love immediately when I know that soon they will.


Overall, I really enjoyed this book. I love this new trend of YA Historical Fiction and this book perfectly fits the genre. It's wonderful to see a real historic figure as a teenager and see her actual life come to life in a story. It's hard to imagine what life would have been like for Victoria but MacColl portrays her perfectly in this book as a teen trapped in a life that was destined for her before she was born. I loved MacColl's style of writing and I cannot wait to read future books from her. I also hope that this new trend of YA historical fiction will last a very long time.


Prisoners in the Palace by
Michaela MacColl
is published by
Chronicle Books
(2010)


This review copy was provided by the publisher