2011 YA Books I'm Looking Forward To
Here are some general market YA books that I am looking forward to in 2011. While there are obviously a bunch that I am looking forward to reading, these are some that I REALLY REALLY REALLY want to read (hint hint! :).
Any of these catch your eye? Any others you are looking forward to?



Check out also 2011 Christian YA books and Christian fiction books I'm looking forward to.

Descriptions from BN.com, Goodreads and publisher's websites
.
Little Women and Me by Lauren Baratz-Logsted (Bloomsbury, 8/16/11)
Emily is sick and tired of being a middle sister. So when she gets an assignment to describe what she'd change about a classic novel, Emily pounces on
Little Women
. After all, if she can't change things in her own family, maybe she can bring a little justice to the March sisters. (Kill off Beth? Have cute Laurie wind up with Amy instead of Jo? What was Louisa May Alcott thinking?!) But when Emily gets mysteriously transported into the 1850s world of the book, she discovers that righting fictional wrongs won't be easy. And after being immersed in a time and place so different from her own, it may be Emily—not the four March sisters—who undergoes the most surprising change of all. Lauren Baratz-Logsted's winning confection will appeal to fans of
Little Women
as well as anyone who enjoys a modern twist on an old favorite.
The Last Little Blue Envelope by Maureen Johnson (HarperTeen, 4/26/11)
13 Little Blue Envelopes
was a hit with critics and readers. Now the story continues in what is sure to be the must-read of summer.... Ginny Blackstone spent last summer traveling around Europe, following the tasks her long-lost aunt laid out in a series of letters before she died. When someone stole Ginny's backpack—and the last little blue envelope inside—she resigned herself to never knowing how the adventure was supposed to end. Now it's months later, and a mysterious boy has contacted Ginny from London, saying he found her bag. Finally, Ginny can finish what she started. But instead of ending the journey that began in
13 Little Blue Envelopes
, she begins a new one. Ginny finds she must hold on to her wits—and her heart. This time, there are no instructions.
Beautiful Dead: Summer by Eden Maguire (Sourcebooks Fire, 3/1/11)
Six months have passed since the last Ellerton teenager died, but Darina is still traumatized by the stabbing of her own beloved Phoenix. But there's work to be done as Darina must now turn her attention to the shooting of Summer Madison - the beautiful and gifted, singer-song-writer with a heart of gold. It's been nearly a year since the random shooting in a shopping mall caused Summer's meaningless death.

Summer left behind recordings of her wonderful songs and a deep sadness amongst high school friends. Now Darina must act as Summerās agent to track down the psychotic killer in a clear search for justice. With the sound of Summer's music constantly playing inside Darina's head, recalling the wonderful months when she was alive and performing her first gigs, Darina, Phoenix and the Beautiful Dead are determined to catch the crazed killer. And all the while Darina's love for Phoenix continues to beat ...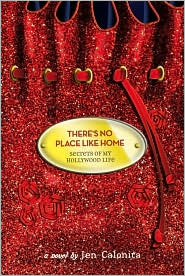 There's No Place Like Home by Jen Calonita (Poppy, 3/1/11)
After her brilliant run on Broadway and surviving the harsh concrete jungle of New York City, seventeen-year-old Hollywood "It Girl" Kaitlin Burke is back in L.A. starting a sitcom with her former-nemesis-now-BFF, Sky. The show is a huge success! In fact, maybe a little too huge, Kaitlin realizes, after a bad run-in with aggressive paparazzi puts her boyfriend Austin in danger. She wishes, once again, that she could have a normal life.
But what Kaitlin doesn't realize is that her Hollywood life has had a positive influence on just about everyone she loves, and it takes a minor car accident and a nasty concussion to truly grasp how lucky she is. In Jen Calonita's sixth and final Secrets of My Hollywood Life novel, Kaitlin learns at last about the price of fame, the unending upside of friendship, and that there really is no place like home-even if it's Tinseltown.
Incredibly Alice by Phyllis Reynolds Naylor (Atheneum, 5/10/11)
No description available