Book Review: "Santa Fe Woman" by Gilbert Morris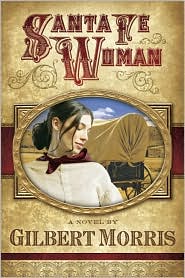 Wild Wild West
Jori Hayden's family has lived a comfortable lifestyle. She herself is pretty much a Daddy's girl, getting everything she's wanted. But then due to an economic depression, her father loses all his money forcing the family to have to move out west. To find their way on the Santa Fe Trail, the family must have a guide. Jori finds one in Chad Rocklin, a prisoner she bails out of jail. The two clash over everything but the Haydens must listen to him if they want to survive in the harsh conditions of the road West.
As much as I enjoyed this book, why do I feel deja vu when reading it? Is it because I've read this plot in several of Gilbert Morris's other books? I guess after over 200 books things start to blend together. I am 100% certain there have been characters named either Praise God or Revelation that go around asking people if they are believers in Jesus in other Morris books. And I know that the story about the guy who can't read, the woman teaches him, they end up getting married was used in book 6 of the House of Winslow series.
I guess to a new reader of Morris this is not a big deal. I did enjoy this book very much, as I have his others. Once again there is a lot of historical fact researched for the story. I do enjoy learning while reading and since I enjoy American history, Morris' books are usually spot on about facts. I like mixing real events and people with fictional characters to show what could have happened, and it also gives a new way to look at history. I just felt the characters in this book were rather one dimensional and predictable. If you want a historical western story, this is a good book. However I would recommend Morris' Cheney Duvall series or the Appomattox Saga if you haven't read any of his books before.
Santa Fe Woman
by Gilbert Morris is published by
B&H Publishing
(2006)