Book Review: "Boo" by Rene Gutteridge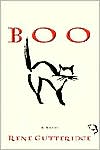 Don't be

skared




Skary

, Indiana has one claim to fame: being the home of recluse horror novelist Wolfe Bane. Everywhere you go, you see signs of his writing in the small town, from the local restaurant to the bookstore. Everyone is happy with this arrangement except for the sheriff's daughter, Ainsley, who is disgusted by the way the author (known as Boo) has transformed the town into a tourist trap. Then news comes that Boo has become a Christian and will no longer write horror. What will happen to the town? Is this just another media ploy? The townspeople all try to figure out the real story behind the news, getting everyone into a bunch of adventures that make for a good fun comic read.


I read that this book was described as "The Mitford Series on steroids." I totally have to agree with that description! The characters in this book are really eccentric and quirky. The small town seems to be isolated in their own little world. It's a place where everyone seems to know everyone and their business.
I really liked Wolfe's character. He struck me as being the only normal person in the entire town. I really liked how persistent he was in discovering more about what it meant to become a Christian even though everyone around him was discouraging him.
The story really struck me how Christians can be very snobby about their faith. Like Ainsley, they claim that want others to believe in Jesus but when someone actually does, they won't believe them. I've seen many people like Ainsley who doubt people's faith. Even worse, were the characters that tried to make Wolfe STOP being a Christian just for their own profit. I will not lie. Some of the characters in the story drove me absolutely crazy and I wanted to scream at them! And especially after what they did to Wolfe near the end of the story.
Tsk
. I did enjoy this book though very much. It was a funny, tongue in cheek look at the way we view hypocrisy. It's fast enjoyable read, a good intro if you haven't read any of Rene's books before.
Boo
by
Rene Gutteridge
is published by
Waterbrook
(2003)