Book Review: "Chateau of Echoes" by Siri L. Mitchell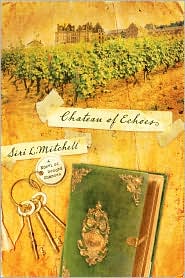 Congrats to Ingrid for winning a copy of Miss Invisible. Stay tuned for more book giveaways in the future!


Rich with detail
Frederique Farmer is a widow who lives in France and is the owner of an exclusive bed and breakfast. She is picky about who she chooses to stay there, offering the best service, but keeping her distance from her guests. But then all that changes when an American writer comes to stay longer than Frederique had originally intended. Robert Cromwell begins to chip away at Frederique's shell trying to draw out who she was before her husband died. The 200 year old diary of the former comtesse of the chateau brings in history with a touch of mystery into Frederique's life.


I had read and enjoyed The Cubicle Next Door so I wanted to go back and read the rest of Siri's books. I picked up this one because I love books about France. Something about that country is just so magical to me. The descriptions in this book about the country really make me want to go visit it one day. I liked how this story focused on the quiet countryside as opposed to big city Paris. This book was especially intriguing with the double storyline blending historical fiction with modern storyline.
It was reminiscent of Angela Hunt's Heirs of Cahira O'Connor series. I really liked learning about the history of the chateau with Alix's story. Her tale seems so tragic because she was at such a young age when everything happened to her. Frederique's story is interesting and tragic as well. She seems to be such a soft spoken character that likes having everything in place and with a routine. Then this guy comes into her life and makes her want to change. I didn't like Severine from the beginning. Her character felt like she was a good person although the story did keep me wondering what she was up to throughout the whole book. The story does start off a bit slow but once the reader gets deeper into the story, it just flows naturally. This book has it all from mystery to history to romance, a perfect blend of European culture for the reader who likes to travel from their armchair.
Chateau of Echoes
by
Siri Mitchell
is published by
NavPress
(2005)