Book Review: "Miss Invisible" by Laura Jensen Walker and BOOK GIVEAWAY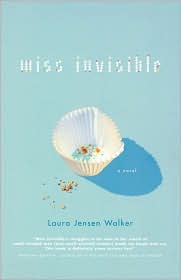 I have a new copy of Miss Invisible to give away. Leave a comment with your email address so I can contact you if you win. I'll pick a name and announce the winner on Monday, April 9. (US entries only, sorry!) Good luck!
One of the best chick lit books EVER!
Freddie is a just your regular almost 30 something woman, who has a job she enjoys, with a boss she hates, trying to find that special guy. Oh and she's also on the bigger side which ironically makes her easy to miss. She's learned to blend in the crowd, pleasing society by eating carrot sticks in public and then going home and downing a pint of ice cream. She's learned to keep her anger inside and stay hidden. Then she meets Deborah, a caterer who gets Freddie to release her true self and become a new person. Once Freddie finds her voice, her life changes- for the better.

Oh I loved loved

LOVED

this book! The story is excellent, the characters are great, there's so much food in the book! I could really relate to Freddie. I'm not a big girl, but neither am I a size 6 either. I felt the same way she does about how smaller girls always get the attention from society and everyone else gets ignored. And I was really glad that Freddie showed realistic reactions to those girls that wear low cut jeans and belly baring shirts. I loved that there is a character named Deborah in this book. Usually when I read a book where there is a character that shares my name she usually gets it shorten down to Debbie (ugh). Not so here, and what an awesome character Deborah was. I wish I had a friend like her in my life.
I really felt for Freddie when her father kept insulting her throughout her life. It really hurt during the party when he did it to her face right in front of everyone. I'm glad that the author did not feel that this book needed to have a tidied ending where Freddie and her father magically get along. I would not have believed it if it was written that way, it would have been completely unrealistic. I just loved how real this book is. Christians do tend to be prejudiced in regards to appearance no matter what they say.
I really loved this book. And I totally did not feel guilty about eating ice cream while reading it either! This is one of the best chick lit books I have ever read, Christian or secular. This is a perfect book to pass along to non Christian readers as well, it's not preachy at all, just a fun good read. If you haven't read any of Laura Jensen Walker's other books, I highly recommend reading those as well. I know I'll be anxiously awaiting her next one!
MIss Invisible
by
Laura Jensen Walker
is published by
Thomas Nelson
(2007)