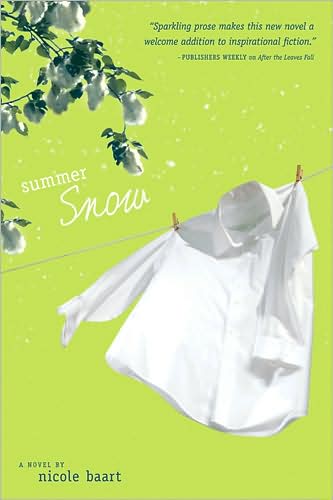 A Beautiful Haunting Story
Julie DeSmit has dropped out of college to move back in with her grandmother and she's pregnant. She's switched from college life to small town living and is now working in a grocery store. Then one day her mother returns towing along a small boy who turns out to be Julie's half brother. Many questions remain unanswered such as why did Julie's mother leave in the first place and why is she back now? Julie doesn't know if she will be able to make up with her mother but she knows that whatever happens she will always be there for her unborn child.
I was afraid that I would be lost because I hadn't read the book that came before this. I didn't have to worry though because Nicole's writing allowed me to enter the characters' lives easily even though I didn't know their past. The writing is so beautiful and eloquent as the reader is taken on a journey within the small town. Family ties are tested throughout the book and mother-child relationships are the mainstay of the novel. This story is so sad and you feel so much for Julie throughout the novel. I really felt like I had entered her life and became a part of her family. However even though with all the drama that is going around, there are still touches of hope sprinkled throughout the story. I liked Julie's coworker very much. Also Simon is a cutie and brought happiness to Julie when she needed it. The ending almost brought me to tears and I'm sure it will affect other readers the same way. This book touched me so much that I had to go back and read After the Leaves Fall and I was not disappointed. The characters from these two books will stay with you long after you've turned the last page. Nicole Baart has written a wonderful gem and it is not to be missed. I am looking forward to her next novel but until then this book is HIGHLY recommended.
Summer Snow by Nicole Baart is published by Tyndale (2008)