Book Review: "Talk of the Town" by Lisa Wingate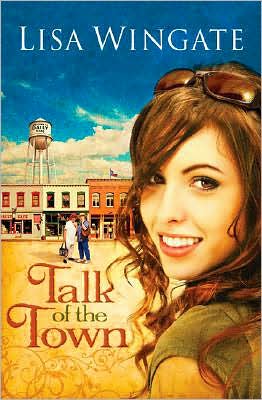 Hollywood meets small town
Mandalay Florentino works for one of the most popular shows on TV which crowns a new singing sensation. She's in charge of making the hometown of one of the contestants ready for the national spotlight for a surprise hometown concert. She's also dealing with a new fiancé, who she met online and struggles with her insecurities regarding that relationship. Meanwhile, the town of Daily, TX is a abuzz with their most popular resident being thrust into the Hollywood glitz and glamor life. Imogene Doll, one of the older residents, takes a shining to Mandalay and offers her shelter in a old hotel and becomes her confidant. Will Mandalay be able to get the town ready for Amber's big arrival?
If you are an American Idol fan, you're going to love this book.
It gives a great inside, behind the scenes look at the makings of the show. This is especially enlightening due to the recent scandals involving the judging on the show. This book shows the cutthroat nature of Hollywood life and what some will do to achieve fame and fortune. Stories about small towns are always fun to read. It's always interesting to see the culture clash between the big city girl and the country town life. The scenes involving the hotel rooms are a hoot especially the descriptions of the Elvis and Care Bear rooms. Truthfully, I agreed with Mandalay's original viewpoint of Amber and the way she seemed too good to be true. I'm all in favor of people overcoming obstacles and succeeding in life. But I'm not a fan of fake people who seem too happy and too goody goody.


There was one main thing that irked me throughout the book especially because it was never resolved at the end. Throughout the entire book, Imogene believes that Mandalay's name is Amanda Lee due to the difference in accents. Mandalay never corrects her (or maybe she just doesn't know) but Imogene keeps wondering why she is pronouncing her own name wrong. I was hoping that this would be tied up at the end of the story but it isn't. It's just annoying that it appears that Imogene will never know what Mandalay's name really is.
While I enjoyed the story very much, there's not much talk about faith in the book at all. To be honest, if it hadn't been published by a Christian publisher, one might never realize it was promoted as a Christian fiction novel. This is not really a problem as the story is engaging and entertaining, just something to be noted. Be sure to grab this book before this year's American Idol season is over.


Talk of the Town by Lisa Wingate is published by Bethany House (2008)