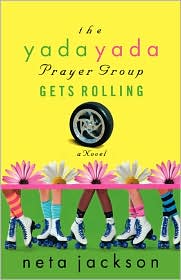 Keep On Rollin, Baby


Jodi and Co. are back again in the 6th book in the series. This time the gals are facing what happens when those you love become old and die, HIV scares, kids in jail, teenage heartbreak, devastating fires, surprise engagements, and rollerskating boycotts. Everyone, from their kids to the women themselves, seems to do a bit of growing up in this book from the experiences they face. Once again laughter and tears will accompany the latest edition in this series where the women will make you feel as if you are part of their group.


Each Yada Yada Prayer Group book just gets better and better. I think that this one, the 6th book in the series, is now my personal favorite. For once, I did not find a single character annoying or any situation to be too outrageous. The women once again face real, true to life issues that affect many women today. I felt the HIV crisis was handled really well and I hope that nothing more devastating will come from it. I also really liked the Passover scene when Ben finally realizes the connection between Jesus and Passover. It was made especially powerful because it was the children who opened up his eyes. And I really thought the prison drama scene was brilliant. Excellent idea for a school play.


I nearly cried when Willy Wonka got too old and passed away. I too have a dog myself and am dreading the day when that will happen to our family. Pets can be very special to people, even more so than actual human beings. I also liked how Chanda has changed from spending her new lottery money on herself to giving to those who really need it. Even Jodi herself notices the changes and learns to appreciate who Chanda really is. It's nice to see some of the minor Yada Yada sisters mature and grow in their personality. My only complaint is that there is now another new member of the group and it's getting harder to keep up with everyone again, just when I had it all straightened out! But if all goes as what group members have in mind, that won't be problem for long. The ending gives you a cliffhanger with both Jodi and myself with our mouths hanging open. I want next book now to find out what happens!!

Excellent writing, easily one of the best series for women out there. Start from book one and I swear you won't be disappointed.



The Yada Yada Prayer Group Gets Rolling

by

Neta Jackson

is published by

Thomas Nelson (2007)