Book Review: "Miss Match" by Erynn Mangum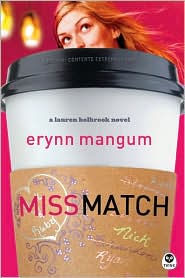 Best Chick Lit Book of the Year

Lauren Holbrook has an uncanny knack for finding the perfect match for others. After all it was her that found the perfect guy for her sister. As a photographer working for her best guy friend Brandon, Lauren is now on the hunt to match her coworker Ruby with her singles pastor. Meanwhile the new (blond) secretary seems to have caught have caught Brandon's eye, while Ruby's brother Ryan seems to be interested in Lauren. Since she has sworn off marriage, this presents an interesting problem. Throw in a hypochondriac overprotective father, chocolate and coffee galore, uncooked Mexican food and numerous Pride and Prejudice quotes and you'll be having a blast as Lauren tries to successfully (and unsuccessfully) find the perfect mate for everyone except her own self.
Well, it's happened. I have found a new favorite chick lit author. This is one of the best chick lit books I have ever read. And what makes this book even more amazing is that the author is the same age as me! It's really awesome to read a book from someone who shares the same views and perspectives because we come from the same generation. Since the author is the same age as the main character, Lauren comes across as extremely realistic acting exactly as I would in certain situations. I find this very refreshing as compared to a 40 year old author trying to write as a 25 year old. Lauren is an excellent character. She dresses in old clothes, hangs out with guys as friends, and bonds with her dad. I love how Lauren really eats food, and doesn't worry about her diet. From greasy cheeseburgers to turtle pie cheesecake, this girl would rather feel full than try to be skinny. She also has one of the most random thinking patterns I have ever read about. I cracked up when reading the quote about Maid Marian's
flower ring, I've always wondered about that too!! Loved all the Pride and Prejudice talk as well, especially with the mock English accents. All the characters in the story are really fleshed out. I liked how Hannah and Lauren's
friendship grew in spite of Lauren's original thoughts. Brandon seems like a really good guy friend to have, albeit he can be very clueless. Lauren's relationship with her family is very touching, she obviously cares very much about her dad even though he drives her nuts.
When I first started reading the book, I kept thinking I would know what happened at the end, who would end with who, believing it would follow the chick lit stereotype. I was happily proven wrong.

This is a fun and hilarious book that will make you say "This has happen to me before!" I cannot wait until the sequel comes out. Erynn Mangum has made a fantastic debut and other chick lit authors better be on the lookout!
Miss Match
by
Erynn Mangum
is published by
NavPress
(2007)