Book Review: "In the Shadow of Evil" by Robin Caroll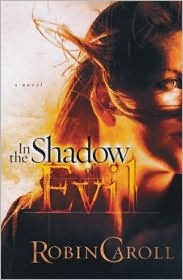 Summary from Christianbook.com: Just outside of Lake Charles, Louisiana, Detective Sergeant Maddox Bishop works in the Criminal Investigative Department, Homicide Division. When the dead body of a building inspector is found in a burnt "Homes of Hope" house, Maddox gets the case. The trail of evidence will lead him into exposing one of the biggest scams of modern day.
Layla Taylor is a contractor in Calcasieu parish, who loves God, her family, and what she does. When Detective Bishop's investigation leads him to her sister's drug-rehab retreat, every defense in her rises to the surface. To prove her sister's business isn't involved with anything illegal or immoral, she joins forces with the man who is against everything she believes in.
Romantic suspense novels really need to draw me in with the beginning of the story. Once you've got me hooked, the suspense needs to continue at a good pace and to not sacrifice it for romance. An equal blend with a tad more suspense than romance is what makes me want to continue reading the book and then look for more of those author's books in the future. Robin Caroll does an excellent job at drawing the reader into the story by starting off with murder that remains unsolved and then picking up the story with a different mystery that somehow ties everything all together.
I liked Layla's character a lot. She's trying to do her best in a position that normally considered a man's job. However she's good at it and earns the respect of others because of her hard work and dedication. I loved though that there's that secret surprise of her being a ballroom dancer. It gives her character a whole other spin because even though she's in a masculine job, on the dance floor she's very feminine. Maddox's story is also very interesting as well. He has good chemistry with Layla and does his best to help her in this case without being too overprotective. What I really enjoyed was the tying up of the murder of his mother that had taken place when he was a teenager. That incident had changed his whole life and it was good to finally have closure on the unsolved mystery.
One interesting tidbit: I found it a bit sad that there was a lot of suspicion on the men who were working in the rehab problem. A lot of them were really trying to turn their life around but because they had bad pasts they were immediate suspects. It seems that no matter how hard we try to make things better, our past will always come back and haunt us.
The last few chapters of the book seemed a bit out of sorts with the rest of the story. I felt that the book went on longer than it should have. The suspense/action scenes were done and the bad guy was caught. What then happens is a completely predictable conversion scene that felt tacked on so that the main characters could justifying being together as a couple. I wouldn't have minded if this happened naturally throughout the story but it just felt so forced that it took me out of the story completely. Which is really sad because I really enjoyed the rest of the book. I had felt that the suspense and action scenes were top notch and that the plot was really believable and kept me glued to my seat. I liked the characters and their personalities. I just didn't like that last bit having to happen in order to end the story. Other than this it's a good book from Caroll and I look forward to reading more from her in the future.
In the Shadow of Evil
by
Robin Caroll
is published by
B and H Publishing
(2011)
This ARC was provided by the publisher