Book Review: "Bound By Guilt" by C.J. Darlington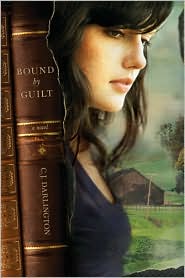 Summary from

BN

.com: Roxi Gold has been shuttled from one foster home to another for most her life. She longs for a family and will do anything to fit in even if it's against the law. Soon she's traveling the country in an RV, stealing rare books from unsuspecting bookstores. She knows it's wrong, but if she refuses, she'll be put out on the streets.
Police officer Abby Dawson has seen the worst of society, and not just at work. Her ex-husband wrested her daughter away from her in a bitter custody battle. The job she once loved has become a chore, the world isn't any safer, and there's no joy in her life.
One fateful night a man's innocent blood changes both Roxi's and Abby's lives forever. One searches for justice; the other finds herself on the run until a first edition of The Great Gatsby catches up with her. Will the power of forgiveness set them free, or will they both remain bound by guilt?
I really enjoyed all the talk about books in this story. In an age where e-readers and e-books are all the rage, this story focuses on physical book and their value. It makes one wonder that if just a small misprint on a dust jacket can make a book's monetary value skyrocket, will that decrease when an e-book can easily fix a misspelling in just mere seconds? Still it made me somewhat happy to see that some of the thieves actually did enjoy reading.
I was a little shocked at the premise of the book. After all what happened in the first book that featured these characters, the events in this book came as a shock. I wasn't expecting

Christy

to have to go through what she did but because of her transformation in the last book she handles it a lot better than I thought she would. Abby on the other hand doesn't but it's not surprise after what she's had to go through in her own life. Abby's husband is a trip. Can I smack that man? I really cannot stand people like that. I didn't feel that there were real grounds for what he did to separate Abby from her daughter. The ending to their story, while can be seen as realistic, made it feel like Abby is just going to accept things the way they are and possibly live a life of unhappiness.
Since I read a lot of YA books, I enjoy seeing teenage characters in adult books that include perspectives from a teenage viewpoint. For the most part, I think

Darlington

did well with Roxi's struggle about her situation. I mean, what are you supposed to do when your mother knowingly abandons you when you are a young child, doesn't bother to look for you and then years later when you do find her again, she tries to hide you so her new life won't be bothered? I wanted to slap that woman! Roxi's situation is a hard one because even though she knows what she is doing is morally wrong, it's also the only chance for survival that she knows at this point. There were times when I felt she acted younger than 16 but due to her circumstances and the hard life she has lived, I can understand why.
Some parts of the book might feel a bit preachy to those who aren't of the Christian faith. As it stands myself, I found some parts to be a little redundant. Overall though it's an enjoyable read. It's hard to classify this book into a certain genre since there are elements of suspense in it but still it's mostly a general contemporary book. One might want to even categorize all of Roxi's parts of the books into a YA read though since the book is not solely from her perspective, I personally wouldn't. I was pleased to see returning characters and I'm glad to hear that there will be another book featuring the same characters in the future. A good sophomore novel from

Darlington

.
Bound By Guilt by
C.J.

Darlington
is published by
Tyndale
(2011)
This review copy was provided by the publisher