Book Review: "The Teashop Girls" by Laura Schaefer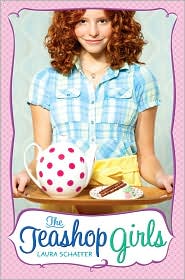 *Although the books I review on my blog are almost always Christian fiction, there will be a few spotlighted regular fiction titles I will review from time to time.*


The Official Rules of the Teashop Girls
1. Teashop girls are best friends forever.
2. Tea is held every week, no matter what.
3. All tea and scones must be split equally at all times.
Annie, Genna, and Zoe have been hanging out at the Steeping Leaf since elementary school. The Teashop Girls do everything together -- at least they used to. With the end of eighth grade approaching, Genna's too busy with theater, Zoe's always at tennis, and Annie feels totally left out. What happened to tea every week, no matter what?
When Annie convinces her grandmother to give her a job as a barista at the Leaf, things begin to look up. In between whipping up chai lattes for customers, and attempting to catch the attention of her Barista Boy crush, Annie is finally beginning to feel as grown-up as her best friends. But an eviction notice spells trouble for the Leaf and unless they can turn the business around, the teashop will have to close its doors forever.
Fresh, honest, and sweet, Laura Schaefer's debut novel is sure to resonate with readers everywhere.
This is another teen book which I found refreshing and a delight to read. I'm not a huge tea drinker but I do enjoy a glass of sweet tea from time to time. Also while I do love getting tea beverages from Starbucks, I like visiting the local places and in favor of small businesses. The Steeping Leaf is a place, every town needs to have. It sounds absolutely wonderful. I also enjoyed the realistic actions, feelings and interactions between Annie and her friends. These girls acted like real 13 year olds and not like the fake teens you see from The Clique or the Ashleys series. It's nice to know that there are authors who are willing to show portrayals of real teenagers. I also appreciated the use of the AIM names that did not have a first name in the screen name. Too many times, I'll read a YA book that has a character having a screen name like Alicia716 when in real life, teens will choose a more coded name. It's a small detail, but it's greatly appreciated because it showed the author does know her audience. While crushes on boys are inevitable, I was really happy that they were treated in a way a normal 13 year old would handle a crush.
The historical tea artifacts, factoids, drawings and stories throughout the book enhanced my reading experience. I loved learning all the tea trivia throughout history. Annie is a very smart girl who will probably be good in the business or marketing world when she is older. She's a great inspiration to young girls. It was a nice change of pace to read about the relationship between Annie and her grandmother. Too often, books portray teens hating to do anything with their families so it was nice to see how well the two got along together and being able to enjoy sharing the same interests. Friendship also plays an important role in this story and it's great to see girls interact without backstabbing or trying to outdo one another.
Reading this book inspired me to get up and make a pitcher of sweet tea so I could drink tea while enjoying the story. I totally wish that there was a place like The Steeping Leaf near me. I would be a regular visitor and would love to become an honorary Teashop Girl. I really hope there are more books in this series as I would enjoy more teatime adventures with Annie and her friends and family.
This is a wholesome and enjoying read perfect for tweens and teens. Therefore this book I CAN recommend to the readers of this blog.
The Teashop Girls by Laura Schaefer is published by Simon & Schuster Children (2008)