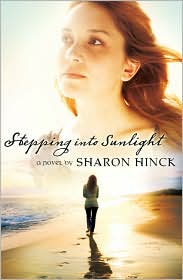 What doesn't kill us makes us stronger
Penny Sullivan lives alone with her young son while her husband is deployed at sea serving as a navy chaplain. They've moved into a new neighborhood and are learning to adapt to their new surroundings. Penny has to learn to live without her husband and be the head of the house while he's not there. However Penny isn't your regular Navy wife. She experienced a traumatic incident that has haunted her ever since and threatens to shut down her world. This story tells her tell about how she has to break out of the darkness and step back into the light, one step at a time.
As someone who has been in a situation similar to Penny's, I could totally understand why she reacted and kept acting the way she did. You don't want to relive the event, yet it's always there haunting you. It's very traumatizing and it takes a long time for you get over it. Therefore I could relate to her and could see how just the small lists she made help make her days better. It was sad that Bryan had to suffer because of his mother's condition. That's the problem with any type of disorders, it affects everyone and not just afflicted person. He was good at putting up a strong face but it was also realistic to see that he was getting irritated with his mother. I kind of wish though that Penny hadn't kept her problems from her husband. I know she didn't want him to worry about her while he was gone, but at the same time, this really isn't a secret you should keep from your spouse. This book shows that sometimes in life, there are times where we can't keep things to ourselves. That even if it hurts to talk about it and it's painful to even think about it, we will only harm ourselves emotionally, physically and spiritually by not getting help. And last but not least, I was thrilled to read that this book takes place in my hometown area! There's nothing more exciting than reading about familiar sites in a book by an author who actually knows and has lived in the area herself. This truly is a powerful book and is one that women everywhere should read. Sharon Hinck has proven that she has mastered writing in several genres (mom-lit, fantasy, humor/mystery, women's fiction) and is now an author whose every book I must read. HIGHLY recommended.


Stepping into Sunlight by Sharon Hinck is published by Bethany House (2008)