Book Review: "Love Finds You in Last Chance, California" by Miralee Ferrell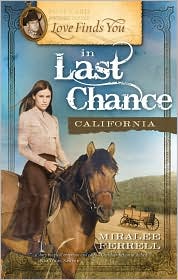 Finding Love in the West
Alex Travers has to take care of the family ranch after her father dies. Justin Phillips has come to Last Chance, CA to find a job and someplace safe to take care of his son. After a few hit or miss encounters between the two, Alex hires Justin to help out on the ranch. Things start to improve between them and it even looks like there might be more than just friendship in the air. But then it looks like someone is trying to keep them apart, slandering Justin's name and causing mass havoc at the ranch.. Will they be able to find out who's doing it and why?
I really enjoyed reading this story. I think Miralee Ferrell has found her niche in writing historical fiction. The story was fresh and didn't fall into the trap of the usual cliched story. I always worry that I'm going to read the same storyline when it comes to young women living on the frontier and trying to get through life by themselves. Not so in the case of this book, as there were plenty of twists and turns to keep me guessing. Alex is a great female lead as she has to take on her father's work after she died. She's not overly too into running the ranch to find love but neither is ready to give up this burden along to someone else as she wants to save it for the family.

I really liked the chemistry between Alex and Justin. I was afraid that he would be against her running the ranch and that by the end of the movie she'd give up everything "manly" for him. Luckily, that wasn't the case. I'm really glad that they found each other and enjoyed reading about the ups and downs in their relationship. The characters were all very realistic and easy to understand. Really, this book could almost be placed in a modern setting and it would still work perfectly. I would have enjoyed visiting Alex's ranch and helping out with even the daily chores. I could picture the ranch and see the open space thanks to the descriptions in the book. The book was a fast read and it made for an enjoyable afternoon. An excellent sophomore effort from Miralee and I'm looking forward to reading more historical fiction from her. BTW this book is part of the Love Finds You series, and if this book is any indication what the other books are like, I will be definitely having to go find some more of them!
Love Finds You in Last Chance, California
by
Miralee Ferrell
is published by
Summerside Press
(2009)