Book Review: "The Rook" by Steven James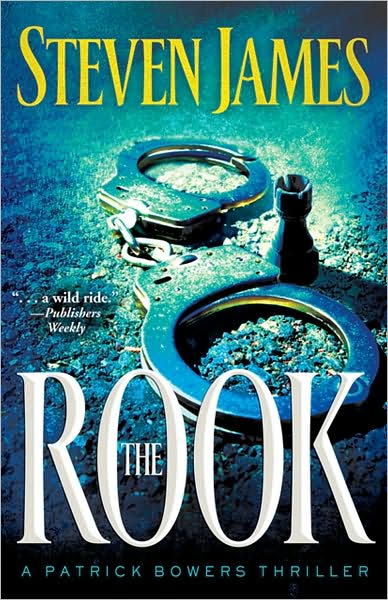 Edgy fiction that will make you squirm
While investigating a series of baffling fires in San Diego, FBI Special Agent Patrick Bowers is drawn into a deadly web of intrigue where nothing is as it appears to be. With his own criminology research being turned against him and one of the worlds most deadly devices missing, Bowers is caught up in a race against time to stop a criminal masterminds trap before it closes around him and the people he loves.
If you have the read the first book the series, The Pawn, then you know what to expect with this book. So you know you're going to stay up late trying to finish this, getting deliciously freaked out while you read it. It is not as gory as the first book. There are still many intense situations that will make you want to keep the lights on. The main villain though, while you want to scream at because you're so disgusted by him, is not as creepy as the villains in the first book. Interestingly, while there are times you want to hurt this villain according to the storyline, you can't. It's makes your mind boggle to think that.

It's a scary book, scary because it's painstakingly real. There are situations happening like this every day in the world. This is edgy Christian fiction at its best. We don't want to read about things that will make us uncomfortable and boy does this book make you feel that way! Beware this series is NOT for those who have weak stomachs or are expecting a light, airy read. There's actually not much, if any, mention of Jesus or Christianity in the books. However the battle between good and evil is strongly present throughout the entire book. I love seeing the characters grow in each book. Tessa wasn't my favorite person but she is growing on me. I am looking forward to reading more about Patrick and Lien-hua's growing relationship.
If you are trying to get a guy to read, this is the book to give to him. Non stop action, suspense, gore. I would not want to see this made into a movie because I'd be too scared to watch! This really is one of the best thrillers I have ever read. I really hope this book gets more mainstream attention because it has everything (and better writing!) that the NYT bestsellers have without having to resort to unnecessary sex or swearing. I cannot wait to read the final book in the series when it comes out next year. VERY HIGHLY recommended.
The Rook by
Steven James
is published by Revell (2008)