Book Review: "The Miracle Girls" by Anne Dayton and May Vanderbilt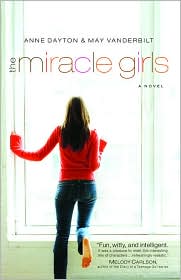 Good girl lit for the YA set
Ana Dominguez is the new girl in school. Just trying to blend in, she unfortunately finds herself in detention for trying to do the right thing. As luck would have it, she's stuck along with Riley the most popular girl in school. Their assignment is to group up with two other girls, Christine and Zoe, and write an essay on "The Day That Changed My Life." That's when Ana discovers that this group was meant to be together as they wouldn't be sitting there if a miracle hadn't happen in their life. Four very different girls who would normally never be friends find out that they have more in common than they expect. However friendship doesn't come quick and easy, there is high school drama that must ensue first....


I have always enjoyed Anne and May's books. They write for the the Christian girls that do enjoy living in a secular world. They know that there are Christian girls who like designer shoes, dating guys and going out for a night in the city.
Their books are like a fresh breath of air to those who are tired of reading cookie cutter characters.
This book tells what it's really like in high school. There's the over-achieving of trying to get into a top college, cliques, feeling out of place, trying not to stand out too of the crowd, it's all there in this book. I actually did appreciate how even fellow Christian girls are still capable of being snobs no matter how strong their faith is. This happened to me in high school and I felt a kinship with the girls who experienced Riley's attitude towards them. Off topic, I loved the name Riley for a female character. There is some label name dropping in the book but it's just enough to make the reader feel that the authors know their audience. It's certainly not the overload you get from mainstream series. The girls in this book do NOT live over-extravagant lifestyles and do not have phony teen slang so they seem more real than their other counterparts. Teens will really related to these characters. This is another great alternative to the mainstream teen lit that is out there today. It's a cleaner story but still edgy enough that teen girls will enjoy it. Also while it is targeted at teens, it's a book that any chick lit fan will enjoy. I'll be looking forward to the next book in the series!


The Miracle Girls by Anne Dayton and May Vanderbilt is published by Faithwords (2008)