Book Review: "In the Beginning: The Art of Genesis" by Chuck Fischer and Book Giveaway!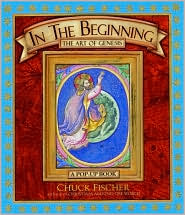 I'm giving away

5

brand new copies of today's book! Leave a comment with your email address so I can contact you if you win. I'll pick a name and announce the winners on Saturday October 11. US and Canada addresses only. Good luck!
IN THE BEGINNING is a beautiful pop-up book for the whole family. An ingenious series of three-dimensional spreads with fold-outs and narrative booklets, IN THE BEGINNING shows how the timeless narratives of the Book of Genesis have inspired artists for thousands of years and continue to do so today.
This spectacular gift book features Chuck Fischer's original artwork on intricate pop-ups representing the classic stories from the first chapter of the Bible. With spreads that range from a medieval-inspired Garden of Eden to a stunningly tall tower of Babel to a magnificent diorama depicting Jacob's dream of a stairway to Heaven, IN THE BEGINNING is destined to become a treasured keepsake and perennial favorite on every family's shelf.

This is an absolutely stunning book. I love pop up books because they draw you more into the book. It's 3D and you can look at it from all different angles to get a better feel of the book. Genesis is a great book to do a pop up version of as there are lots of wonderful stories to be told. All the familiar stories are there and families will be able to show the pop up and then can go back and read the Bible story behind it. My favorite is Jacob's Dream and the Ladder to Heaven. There's a beautiful stained glass pop up display that towers in front of you. Equally as impressive is the Tower of Babel display which just jumps out at you from the book.There's pullouts with replicas of ancient artwork. I love the research that went into recreating them.

I will say just because it is a pop up book does not mean its for kids.

The pop ups are rather fragile. It's not just pictures, there is a description of the scene with the history and background.

There are also classical paintings incorporated in the art which does include nude paintings therefore it's probably not recommended for young children.

There is nothing graphic but little ones might might have a lot of questions when seeing them. It's a beautiful book to put on your coffee table and read with the whole family. I think it would be wonderful to have every book of the Bible in pop up form! If you are a visual learner and love art, this is the book for you.

In the Beginning
by
Chuck Fischer
is published by
Little Brown and Company
(2008)