2009 Spring Reading Thing WrapUp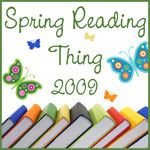 Well all good things must come to an end. And the Spring Reading thing is now over. How'd I do? Well I read all the books (32) on my list PLUS 46 more for a grand total of

78 books in 3 months

!!!!! It's my BEST ever! This is thanks mostly to the 24 hour readathon where I was able to crank out 19 books in 24 hours.

Here's the official list of the books I read for the challenge.

Here's a breakdown of the OTHER books that I read

Christian Fiction

The Cure by Athol Dickson

Michal by Jill Eileen Smith

Journey to the Well by Diana Wallis Taylor

Boneman's Daughters by Ted Dekker

Daniel's Den by Brandt Dodson

A Claim of Her Own by Stephanie Grace Whitson

The Face by Angela Hunt

Stealing Home by Allison Pittman

A Promise to Believe In by Tracie Peterson

Murder at Eagle Summit by Virginia Smith

A Love to Last Forever by Tracie Peterson

Play It Again SAHM by Meredith Efken

Higher Hope by Robert Whitlow

Nothing But Trouble by Susan May Warren

The Edge of Light by Ann Shorey

Sisterchicks in Wooden Shoes by Robin Jones Gunn

The Bunko Babes by Leah Starr Baker

Love's Pursuit by Siri Mitchell

Double Deception by Terri Reed

Snow Melts in Spring by Deborah Vogts

Enduring Love by Bonnie Leon

Final Deposit by Lisa Harris

Chick Lit

Comfort Food by Kate Jacobs

Mating Rituals of the North American Wasp by Lauren Lipton

Looks to Die For by Janice Kaplan

YA

Skinny by Laura L. Smith

Secrets of My Hollywood Life On Location by Jen Calonita

Family Affairs by Jen Calonita

Twenty Boy Summer by Sarah Ockler

Sleepaway Girls by Jen Calonita

Who Made You a Princess? by Shelley Adina

Take a Chance On Me by Cecily Von Ziegesar

Paparazzi Princess by Jen Calonita

Bad News/Good News by Annie Bryant

Poseur by Rachel Maude

Letters from the Heart by Annie Bryant

Access Denied (and other eighth grade errors) by Denise Vega

Diva Without a Cause by Grace Dent

Girl Stays In the Picture by Melissa de la Cruz

Memoir

I Loved, I Lost, I Made Spaghetti by Giulia Melucci

Other Literature

The Castaways by Elin Hilderbrand

The Host by Stephenie Meyer

The Way Home by George Pelacanos

Secrets of Happiness by Sarah Dunn

Admission by Jean Hanff Korelitz
What was the best book you read this spring?
Since I can never choose just one...Play It Again SAHM by Meredith Efken, Boneman's Daughters by Ted Dekker, Secrets of My Hollywood Life by Jen Calonita, The Host by Stephenie Meyer.
What book could you have done without?
A couple of the Love Inspired Suspenses were boring but I really did not like The Castaways by Elin Hilderbrand. Too much soap opera. My first book by her and possibly my last.
Did you try out a new author this fall?
If so, which one, and will you be reading that author again?
Yes, I found a SLEW of new authors this go round. Possibly my favorite is Jen Calonita, author of the Secrets of Hollywood Life series and Sleepaway Girls. I love her writing and I can't wait to read the next book in the Secrets series.


If there were books you didn't finish, tell us why. Did you run out of time? Realize those books weren't worth it?
I finished all my books this time around. I had to stop reading for a month because of schoolwork. But doing the 24 hour readathon helped to catch up. I thougth for sure I wasn't going to make it but I did..and beyond!


Did you come across a book or two on other participants' lists that you're planning to add to your own to-be-read pile? Which ones?
TBH I had so many books on my own lists and have a huge TBR pile that I didn't really add anything from another list.
What did you learn -- about
anything
-- through this challenge? Maybe you learned something about yourself or your reading style, maybe you learned not to pick so many nonfiction books for a challenge, maybe you learned something from a book you read. Whatever it is, share!
I do this challenge to whittle down my library TBR pile. It works for like a month or so as I try to finish up the list for this challenge, but in the meanwhile I keep going to the library and getting more books so it's neverending.
What was the best part of the Spring Reading Thing?
Finding out new authors and just being able to get a chance to read.
Would you be interested in participating in another reading challenge this spring?
Of course!!!