Interested in Vampires? Or the Amish? Or a Blog Tour?
Faithwords has two very different books coming out in fall of this year. An Amish book and a Christian Vampire book. Different ends of the spectrum, I know (wiggles eyebrows unsuccessfully). I'm looking forward to both these books because you know how my tastes are all over the place like that.
And the publisher is looking forward to doing a blog tour for both of them. The tour for Kiss of Night by Debbie Viguie is 10/3-10/7. The tour for The Wounded Heart by Adina Seft is 9/26-9/28. If you're interested in either of the books, read the descriptions for each story and then click on the link to sign up.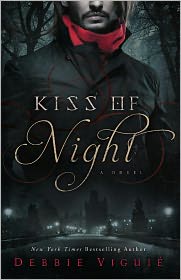 Centuries ago, Raphael was a blasphemous knight who fought in the Crusades purely for his own mercenary benefit, and to satisfy his taste for killing. Now, condemned for his evil passions and hypocrisy, he wanders the earth a vampire, cursed with first-hand knowledge of the supernatural world he once denied existed. The powerful relic he still possesses from his days as a Crusader has been stolen by a rival vampire who has recruited an army of soulless underlings to aid him in spreading evil. At the time he learns this, Raphael has been hunting this vampire for nearly a century, and it seems the final battle is destined to take place in Prague.
For help in this quest, Raphael must enlist the aid of two humans, David and Susan, who suddenly find themselves immersed in a world they never imagined, entangled with supernatural forces they can't control. Susan, in particular, finds herself conflicted as she struggles with her inexplicable attraction to Raphael. In the end, both Susan and Raphael will be called upon to exercise courage and faith, and in the process, the question What would happen if a vampire truly accepted God? is answered.
If you are interested in signing up for this tour, click
here
.
When a business offer turns into something more personal, Amelia is torn between what logic tells her is right, and the desire of her heart.
A widow with two small children, Amelia Beiler is struggling to make ends meet. She is running her late husband's business, but it's not what she was raised to do, which is run a home. When she gets an offer for the business from Eli Fischer, she's only too relieved to consider it-especially when it looks like Eli's interest might include more than just the shop. But when she begins to experience strange physical symptoms and is diagnosed with multiple sclerosis, it's difficult not to question God's will. If she pursues the treatment she believes in, she risks going under the bann. But how can she allow Eli to court her when she can't promise him a future?
Includes instructions to make the quilt block featured in the novel.
If you are interested in signing up for this tour, click
here
.