Book Review: "Someday" by Karen Kingsbury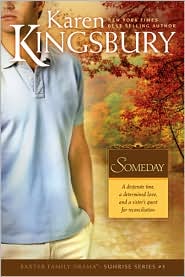 True Hollywood Story
Newlyweds and movie stars, Dayne and Katie Matthews are on separate continents filming for their respective films. Even though they love and trust each other, doubts and fears begin to creep in. Then a tabloid prints a picture featuring someone who looks very much like Dayne frolicking with a female costar. Only Dayne knows the truth about the picture but he is sworn to secrecy. Will he ruin his new found reputation as a Christian and his marriage to protect the real perpetrator?
A few months ago, I felt like I was the only reader on earth who hadn't read a Karen Kingsbury novel. Then I picked up my first Baxter Family story and got immediately hooked. What I have enjoyed most about this series is the realistic portrayal of the life of a Hollywood actor. I'm ashamed to admit that I'm one of those who enjoy flipping through the gossip rags that are on display at the checkout counter. I like seeing what the stars are doing. So it was rather interesting to read what it's like from the celebrity's point of view of how damaging the paparazzi really can be. You never really think about how much the media can twist something into a lie. I really wanted to smack Luke while reading this book. As realistic as Dayne has been in the majority of the series, he struck me as kinda fake in this one. If I had been in his shoes, and my brother did something to make everyone in the world think I was a cheater and wreck my marriage, I would not be a happy camper. I'm not saying he should have punched Luke but it seem too easy to forgive him just like that. And Luke didn't really show that much remorse which made it more unbelievable that Dayne was forgiving like that.

The stories involving the other members of the family were equally as riveting. I really like reading about John's growing relationship with Elaine. It's very romantic and touching to see two people with huge losses be able to come together and fall in love. I also enjoyed reading about CKT. I really wish we had one of those productions when I was growing up. I would have loved to be a part. I'm going to be sad to leave the Baxter family behind in the next book but as they say, "All good things must come to an end."
Someday by Karen Kingsbury is published by Tyndale (2008)