Book Review: "Moon Over Tokyo" by Siri L. Mitchell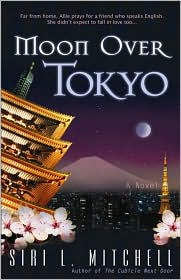 How to Adapt to a New Country


Allie O'Connor is an American reporter living in Japan. Her dream however is to write a novel. She still hasn't adapted to the Japanese culture even though she's lived there for over two years. One day at church she runs into her old high school nemesis, Eric Larson. Eric was everything Allie stood against for in high school. However since then, she finds out they have quite a bit in common. Eric shows her how to enjoy living in her new surroundings and also gives her hope for a new change for a relationship in her future.


Siri Mitchell's books are always a favorite to read, the characters are well developed and the story makes you really think. This one is no exception. I really loved the descriptions of the Japanese culture and society. I've been to Japan once, well it was really a layover in the airport during our flight to Malaysia, but the airport itself was stunning.
I love the cover of the book. It shows both the old and new cultures blending in Japan. I also always enjoy novels set in Asian countries, it's nice to read a setting outside the US for a change. I also liked the haikus that opened up each chapter.

I liked reading about how Allie had to adapt to living in a different country. However
I didn't understand though why it has taken her so long to experience the Japanese culture. In the beginning of the story it would seem that she knows her way around the area, but after meeting Eric it looks like she only has a routine and doesn't deter from it. She's basically an American living in Japan and not trying to fit in, only getting by. I liked their relationship together. It was good to see that they took things slow and that Eric valued even just a simple kiss. I thought that, while I liked seeing opposites attract, too much was made on their political differences. It got kind of repetitious to keep reading about Democrat vs. Republican ideals especially since how they were living in Japan now. But Eric seems like a really nice guy and the perfect match for Allie.
There are several social drinking scenes in the book, so if you are uncomfortable with Christians drinking you might want to avoid this book. I found this to be an excellent novel. It really makes me want to go visit Japan, but for now I'll enjoy it through this book.
Moon Over Tokyo
by
Siri L. Mitchell
is published by
Harvest House
(2007)